New Orleans has some of the most colorful public transportation in all of America. From our striking antique trolley cars (STREETCARS AS LOCALS CALL THEM) , and the new cars now chugging along Canal Street, to the colorfully embossed artwork of the city buses, you know you're in New Orleans when you take a ride on one of these moving works of art.

But it was only a few decades ago when New Orleans couldn't boast too much about their buses being "works of art": the old silver monoliths were a hallmark of NOPSI (New Orleans Public Service, Inc.) in the "good old days." And with interesting destinations like CEMETARIES and END OF LINE displayed in their route boxes, sometimes there was a feeling that "this bus is going somewhere I don't want to go!"

Still, New Orleanians have fond memories of first bus rides and trolley rides. Yet there are some among us, locals and tourists alike, who insist that there are still "buses to nowhere" out there to this day!

Reports come in every now and then of amazing encounters with retired NOPSI buses, like Silver Stream trailers still lumbering the oak lined routes and pockmarked streets in the older areas of the city.

Most troubling, perhaps, are the reports of drivers who have experienced "near miss" encounters with these retired transportation giants of yesteryear. One local man in the Mid-City area was injured when his car crashed in the middle of the night at a major intersection along the traditional Mid-City bus routes. He had collided with a signal light transformer box; luckily no other vehicles were involved. When police arrived at the scene, the man insisted that at the point of hte accident a ghostly bus had come barreling along into the intersection, all its lights blazing and apparently empty. Most disturbing, there seemed to have been "NO ONE AT THE WHEEL!"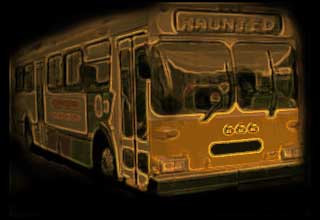 A witness who heard but did not see the accident reported to police that he heard the victim's car approaching at a normal pace and that this was suddenly overwhelmed by the sound of a bus engine, wide open, accelerating at a breakneck speed, apparently toward the intersection. The driver was given the usual sobriety tests but neither alcohol nor drugs were detected; the man had simply been on his way home from a late shift when he was overtaken by the phantom NOPSI bus.

Another report, entirely separate from the one reported above, was an emergency call regarding an apparent hit and run that was again heard, but not seen. A local resident, awakened by the sound of a car crash, went to his front window to see a car crashed at the nearby intersection. After summoning the authorities, the man put on his robe and went to the site of the accident to lend assistance only to be asked repeatedly by the injured driver, "Did you see that bus??"

This might seem completely impossible, but there are other reports from pedestrians in the same area of New Orleans, veterans of the public transportation system, who insist that there is such a thing as a phantom bus in the area. Two independent sources report that they inadvertantly almost got aboard!

The stories from both are similar: they each approached their regular bus stop in the early morning hours to see an old fashioned NOPSI bus idling at the stop, empty and unattended, all its lights on. One of the sources stated that it was a cold night and he thought that this might be a new all-night service and briefly considered running to board it. Something stopped him, however, and in a moment, to his complete amazement the bus, without a driver or any living person onboard, moved away from the stop and accelerated into the dim New Orleans dawn. The second source recounted an almost exact story with the singular exception that he never considered boarding the bus. "It just looked bad," he said. "It felt like it came from somewhere else, from hell, maybe -- but I never wanted to get on that thing!"

There are also stories of phantom buses appearing on city side streets that do not and never have had public bus service. Imagine the surprise of locals who come out for their morning paper to see and old NOPSI bus idling at the curb near their house, empty ... except perhaps for a phantom driver that no one sees. Imagine their amazement when the old bus pulls away of its own volition, still maintaining some tight schedule in the other world.